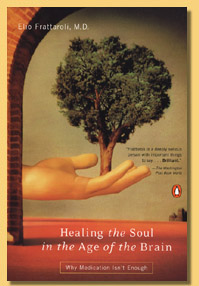 Healing The Soul in the Age of the Brain
Becoming Conscious in an Unconscious World

by Elio Frattaroli, M.D.

Wednesday, July 26, 2017: 12-1pm, Wednesdays@Sheppard Pratt Lecture Series

"Vive La Résistance! Treatment-Resistant Depression as a Sign of Unconscious Health"
with Elio Frattaroli, M.D.




Presented at The Conference Center at Sheppard Pratt
6501 N. Charles Street
Baltimore, MD 21204


Saturday, April 30, 2016, Vermont Institute for the Psychotherapies Presents:

Morality versus Ethics: Moral Development in Psychoanalytic Psychotherapy
with Elio Frattaroli, M.D.

Full day conference including morning presentations by Dr. Frattaroli:
"Experiencing and Understanding the Psychotherapeutic Process"
"What is Good for our Patients? What is Good for our Profession? What is Good? How Do We Know?"
Dr. Frattaroli will also participate in one of the two afternoon panel discussions.

Multi-Purpose Room
Kreitzberg Library
Norwich University
Northfield, Vermont